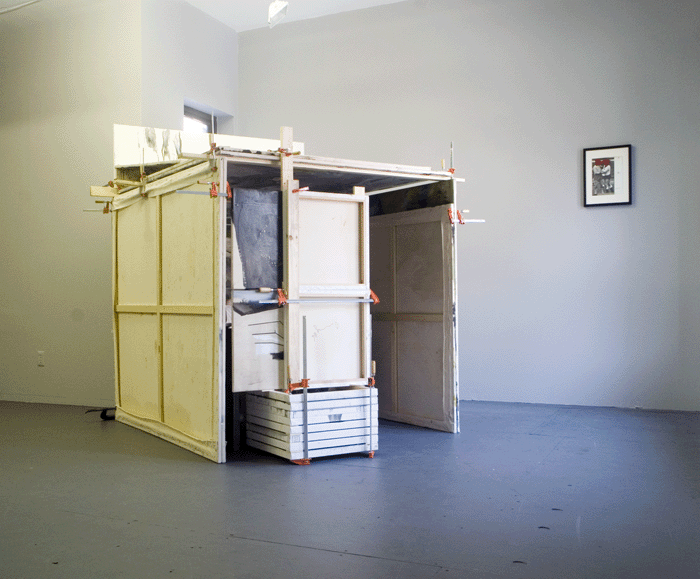 If all else fails, 2006
Thrust Projects is pleased to present the New York debut exhibition of Daniel Domig, a recent graduate of the Academy of Fine Arts in Vienna.

The artist will choose 22 of his own paintings of various sizes and build an intimate dwelling inside the gallery. Contained within the dwelling will be objects such as a single light bulb for reading, an armchair belonging to his brother, and a record player. The installation is a reaction to the more conventional modes of exhibiting painting today.
Domig will also choose a selection of canvases to show in the space alongside the installation. The imagery in Domig's paintings embrace the intimacy of private spaces. We often encounter a figure floating inside, outside, or in front of some natural or architectural setting. Shown through manipulation of traditional techniques, the paintings become their process and the viewer is caught between seeing an illusion of a line or an outstretched hand. The construction of formal meets the deconstruction of the narrative with an improvised touch, control of the medium becomes an afterthought, creating an arresting sense of subjectivity.
"What I try to do is take the figures inside of certain construction—rooms, houses, nature and become that same figure trying to construct the painting. It never quite works, there is a hint at perfection; a wish in the direction of something safe, something that never feels complete. You feel there is always something wrong, it comes through in the non-perfect circle or the sagging square."
The artist poses questions on the nature of painting conceptually and visually- by using the works as personal space and by creating a new environment to experience painting. Daniel Domig, an American-Austrian, was born 1983 in Vancouver, Canada and raised in Salzburg, Austria. He currently lives and works in Vienna. For further information and photos, please contact Sara Smith at sara@thrustprojects.com.