New Work
Elizabeth Cooper

May 23 - July 6, 2008


View Exhibition Images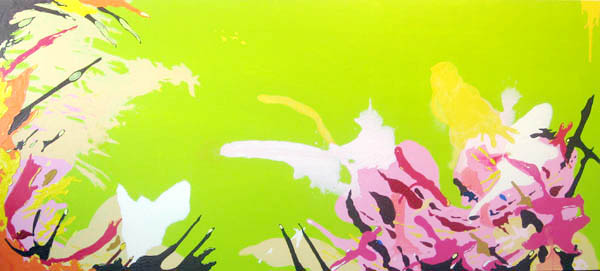 Elizabeth Cooper, Untitled, 2008, oil and enamel on paint, 48 x 102 in.



Jane Kim / Thrust Projects is pleased to announce an exhibition of new abstract paintings by New York artist Elizabeth Cooper. Cooper's approach to abstraction, a mix of pop, gestural, and expressionism, has been consistent and controlled for more than a decade, mastering a wide variety of colors and fusion of physical elements of paint. Her new work is an attempt to move towards a looser proposal, expanding the pictorial plane to larger canvases and in others, vertical formats that recall Asian scroll paintings. We witness her signature style of gobs, pours, splatter of liquid explosion typically from the bottom or top of the canvas undergo an evolution as movement of the paint now fills almost the entire surface with less restraint, less emphasis on the paint, giving the forms a new narration.
Elizabeth Cooper was born in Queens in 1972 and lives and works in Brooklyn. A graduate from Cooper Union and Columbia University, the artist has consistently been exhibiting her work in galleries and museums in New York and Europe since the mid-nineties. Elizabeth Cooper is currently participating in "The Invitational", The National Academy Museum, New York (May 29 - September 7) and "Unlikely", at W139, Amsterdam (May 17 - June 22). She curated the group exhibition "FREEZE FRAME" featuring seven of her fellow contemporaries at Thrust Projects in January 2008, with reviews in The New York Sun , Brooklyn Rail , and artUS . Cooper will have a forthcoming one person exhibition at Galerie Schmidt Maczolek, Cologne in the Fall of 2008. This is her second solo exhibition at the gallery.
Jane Kim / Thrust Projects is located at 114 Bowery between Grand and Hester Streets, on the 3rd floor. Gallery hrs: Wed - Sun from noon to 6 pm. Directions: BD train to Grand/ F train to East Broadway/ 456 & NR to Canal/ JMZ to Bowery. For images or further information, please contact 212 431 4802 or jane@thrustprojects.com.