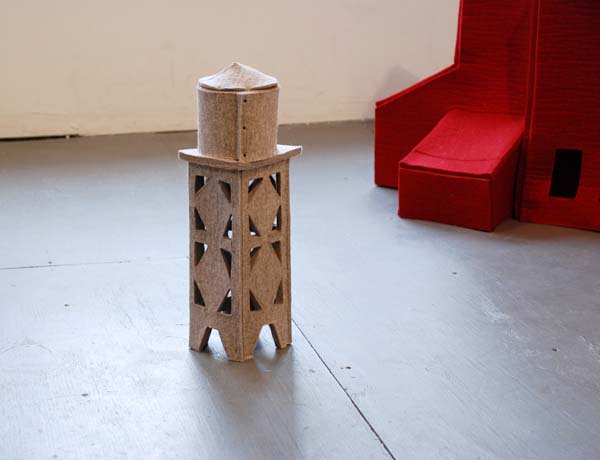 Johanna Unzueta, Natural Gray Water Tower

Johanna Unzueta
January 14 - March 11, 2007


Thrust Projects is pleased to present a solo exhibition of the work of Johanna Unzueta . Unzueta is an artist who utilizes felt as a sculptural material. This is her first exhibition at Thrust Projects, consisting of three series: site-specific awnings, butterfly nets, and "industrial sculptures."
The careful handiwork of Johanna Unzueta's felt "industrial sculptures" of factories, mills, cooling towers, and houses remind the viewer of the 'work of hands' that underlies any grand modern accomplishment. The games of scale affected by the play between her site-specific awnings and miniature buildings make the imposing and impersonal intimate and accessible. In conjuring up thehuman history of labor, her nostalgic sculptures of abandoned Industrial Revolution-era buildings give a revised retelling of the story of technological advancement in which time as a constant force that both buries and popularizes these architectural "monuments."
Unzueta's butterfly nets refer obliquely to the amusements of the upper class, they are observations of a former era, and counterpoints to the "industrial sculptures." The distance between these extremes becomes formal, thematic, and poetical. Johanna Unzueta is not immune to the abstract idea of class struggle, but rather engages it in a human way.Born in Santiago, Chile, Johanna Unzueta received a degree from the Universidad Catolica de Chile in 1998 and lives and works in New York. She has exhibited her work at Galeria Die Ecke, Santiago de Chile; Galerie Christian Nagel, Cologne/Berlin (in the Miami Design District); Message Salon, Zurich; Centro Cultural Matucana 100, Santiago de Chile and at the LeRoy Neiman Gallery, Columbia University, NY . She has also participated in group shows at Exit Art, New York; Hall Ségur, Unesco Headquarters, Paris and Roebling Hall, New York.
For further information, please contact Sara Smith at sara@thrustprojects.com.
Gallery hrs: Weds - Sunday from noon to 6pm.