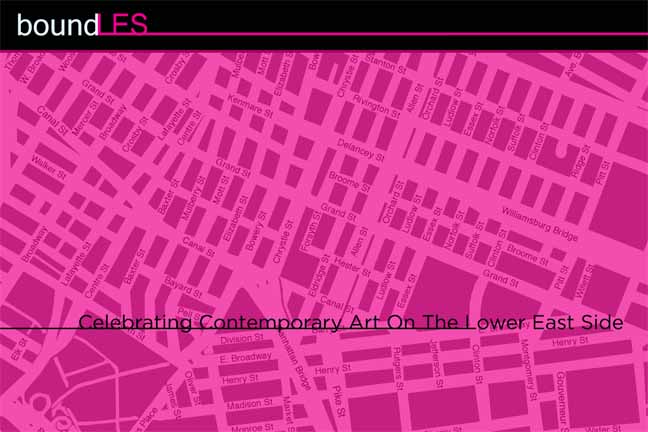 boundLES
A Unique Collaboration Between Lower East Side Galleries and Nonprofit Art Spaces
Exhibition dates: November 27, 2007 - January 13, 2007
Opening Receptions : Saturday, December 1, 2007, 5:30 pm - 9 pm

The boundLES participating galleries & artists are:
CANADA / Carrie Moyer
ENVOY / Michael Yinger
FRUIT & FLOWER Deli / Front
JAMES FUENTES LLC / Lizzie Bougatsos
LUXE GALLERY / Trine Lise Nedreaas
NEVER WORK / E.J. Hauser
THE PHATORY / Andrew Kearney
RENTAL (Patricia Low Contemporary) / Tjorg Douglas Beer
SUNDAY L.E.S. / Joel Gibb
SMITH-STEWART / Jen Denike
THIERRY GOLDBERG PROJECTS / Keren Cytter
THRUST PROJECTS / Clegg & Guttmann
V & A / Selma Hafizovic
boundLES is a collaborative exhibition project that brings together commercial galleries, nonprofit arts institutions and artists in celebration of the rich creative spirit of the Lower East Side. Some of the longest-running creative centers in the community will host work by contemporary artists represented by galleries that have opened in the area over the last five years.
In a mutual gesture of hospitality, artists selected by the galleries will present their work in four anchors of the Lower East Side: Abrons Arts Center of Henry Street Settlement; The Educational Alliance, University Settlement, and ABC No Rio. The boundLES public program series includes performance and video presentations, walking tours and panel discussions. Additional nonprofit arts spaces will be holding their own exhibitions.
boundLES not only creates partnership between the galleries and nonprofit art spaces but represents the explosion of arts activities in the area. This collaboration allows a wider public to explore the neighborhood and discover the individuals and institutions that shape the cultural landscape of the Lower East Side today well beyond traditional borders known to the art world.
Coinciding with the opening of the New Museum of Contemporary Art on the Bowery at Prince Street, boundLES opens December 1 and paves the way for further creative collaborations between important and distinct artistic identities.
boundLES is curated by Jane Kim (Director, Thrust Projects) and Cecilia Alemani (independent critic and curator), with the assistance of Elena Linares-Low and Padma Rajendran. For updates please visit our website, www.boundLES.net, and for inquiries contact 212.431.4802 or info@boundLES.net.
Opening Receptions : Saturday, December 1, 2007 from 5:30PM - 9PM at
The Educational Alliance 197 East Broadway at Jefferson St. (212. 780.2300 x 378)
Abrons Arts Center at Henry Street Settlement 433 Grand St at Pitt St. (212.598.0400)
University Settlement 184 Eldridge St. at Rivington St. ( 212.453.4532)
ABC No Rio 156 Rivington St. at Suffolk St. ( 212.254.3697)
Events:
Video and Performance Art Program : University Settlement , December 1 -2 (program & times to be confirmed on www.boundles.net)
Poetry Reading : Tribes Gallery , 285 East 3 rd Street (www.tribes.org), December 1 st
Walking Tours : Sunday, December 2 nd at 2 pm and Sunday, December 9 th at 2 pm
Panel discussion : Artists Talk on Art , Lower East Side galleries , Friday, December 7, 7-8:30, The School of Visual Arts . Chair: Susan Fleminger, Henry Street Settlement
A map with the detailed information about the exhibiting artists, venues and galleries will be published.
About the Abrons Arts Center at Henry Street Settlement:
Since 1893, the Settlement has enriched the cultural life of local residents through arts instruction in dance, drama, music and the visual arts along with performances and exhibitions. Today it is a prime venue for New York's avant-garde, offering bold experimental programs in the performing arts. ( www.henrystreet.org/arts )
About the Educational Alliance and its Art School:
For over a century, the Alliance has provided essential support services and cultural opportunities and today its twenty-five sites serve the diverse needs of community members. The historic Art School and its gallery provide instruction in the visual arts and on going exhibitions. (www.edalliance.org)
About University Settlement:
University has has pioneered integrated social service programs for new immigrants and the working poor that strengthen families for more than a century . Today it serves more than 20,000 people a year at its ten different locations with programs for all ages.(www.universitysettlement.org)
About ABC No Rio:
A collectively-run center for art and activism known internationally as a venue for oppositional culture. It was founded in 1980 by artists committed to political and social engagement and retains these values to the present. (www.abcnorio.org )
Additional nonprofit arts spaces holding their exhibitions during boundLES :
Asian American Art Center 26 Bowery # 3
Galleryonetwentyeight 128 Rivington St.
Kenkeleba 214 East Second St.