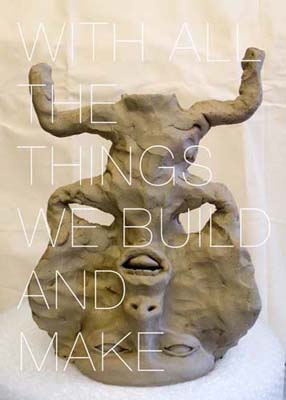 Jane Kim/ Thrust Projects is pleased to announce the second solo exhibition of Daniel Domig , entitled With all the Things We Build and Make , a new installation encompassing large and small paintings in a circular, free-standing wooden structure. By making the painting process a form of construction, Domig continues his research into the materiality of objects. The substance for the paintings as well as the installation is the interaction between space and figure in which boundaries both embrace and separate. The emphasis between form and content becomes less about one definitive meaning as the works serve as a fill-in and fenestration to the unoccupied space in the structure, allowing the viewer to peer into Domig's artistic self and world views from the inside. The complexity of the figures, part human, part animal, reference Christian iconography and relates to the existential facets of man in the concrete world. Domig's interest lies in the possibilities of expanding the dialogue of presenting painting within new environments, where elements (figures, landscapes) relinquish their independence accepting their abstract nature within the canvas.
Daniel Domig (b. 1983) is a graduate of the Academy of Fine Arts in Vienna. His 2006 debut solo exhibition Don't ask for a name now, maybe you'll find it later at Thrust Projects was reviewed in Artforum.com (Critic's Pick, Oct 9, 2006). Recent exhibitions include his first one-person museum show, Daniel Domig: Neither Fear nor Courage Saves us , Museum Engen, Germany, accompanied by a catalogue (edited Städtisches Museum Engen + Galerie, 2008) and Daniel Domig: BEASTBODYBREATHING , Galerie Karol Winiarczyk, Vienna. He lives and works in Vienna.
Jane Kim / Thrust Projects is at 114 Bowery between Grand and Hester Streets, on the 3rd floor. Gallery hours are Wednesday to Sunday from noon to 6 pm. For images or further information, please contact 212 431 4802 or jane@thrustprojects.com.